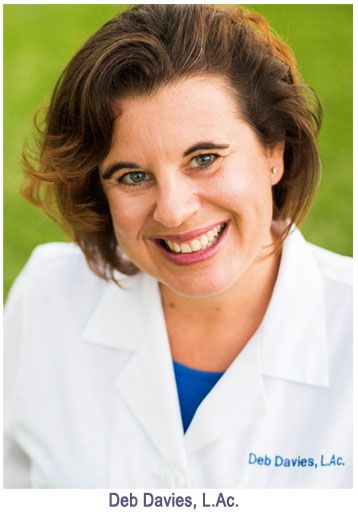 Deb Davies, L.Ac. is a San Diego based acupuncturist and childbirth educator who specializes in women's health with a special focus on pregnancy and childbirth.

Deb has over 20 years of experience in the healthcare field supporting thousands of women with fertility, pregnancy, birth and postpartum care and beyond. Her mission is to educate and empower expectant couples to have safe and healthy pregnancies, deliveries and recoveries, while providing natural options in health care.
As a pregnancy and birth specialist Deb has supported thousands of families to

Overcome fertility obstacles to become pregnant including recurrent pregnancy losses.

Maintain a healthy and enjoyable full term pregnancy.

Prepare for an optimal birth experience building confidence and empowering couples through Birth Basics classes.

Assist during birth with acupuncture, acupressure and massage during Labor and Delivery providing comfort measures and birth support.

Provide post-partum recovery care for optimal recovery time including C-section recovery.
Deb is a mother of two girls. Her first born, Mia Belle was born still at term from a cord accident in March of 2001. Deb had her second daughter Lauryn a year later, and her girls are the inspiration and passion for her work with pregnant and laboring women.
​
Through her personal journey with pregnancy loss and experiencing the joy of motherhood, Deb has developed a profound empathy and understanding helping numerous women with miscarriage support and instilling hope and confidence in those with recurring pregnancy losses.
History and Qualifications
Deb has been in the healthcare field since 1996 and holds certifications in Acupuncture, Chinese Herbal Medicine, Birth Education, Massage Therapy, Oriental Body Therapy and as a Holistic Health Care Practitioner from Pacific College of Oriental Medicine (PCOM). She has also received extensive post-graduate training within the fields of women's health, fertility, obstetrics, labor and delivery with some of her mentors including Debra Betts PhD and Jill Blakeway M.Sc. L. Ac. As a Licensed Acupuncturist Deb has a private practice in Hillcrest and works as a contractor for Scripps in La Jolla. She is a DONA trained doula, and supporting births since 2007. In 2014 she became a certified childbirth educator, and has been teaching birth education ever since.
Deb has a great passion for integrative medicine and for making a difference in her community and has been recognized as an Alumni Leader in the field of Chinese Medicine & Integrative Medicine by her peers. She began the Integrative Medical Discussion Group in 2006 and facilitated quarterly meetings at PCOM with Eastern and Western medical students and professionals. Deb was also the Director of Alumni Services & Community Education at Pacific College of Oriental Medicine for 3 years and the Community Partnership Committee Co-Director of UCSD's Center for Integrative Medicine and is currently an Event Coordinator & CEU Provider for licensed acupuncturists.

​Her goal and main concern is to educate the community on options in health care, and promote prevention and wellness.